Artificial Turf by My View Golf
For residential applications, My View Golf offer artificial golf greens, modular greens and golf nets for the home and garden. For commercial applications, My View Golf specialises in golf course design and construction. A full range of products and services are available including the supply and installation of practice greens, bunkers, winter tees, driving range mats and artificial grass pathways. Our artificial turf can also be used for miniature golf courses and adventure golf courses.
Residential Golf Greens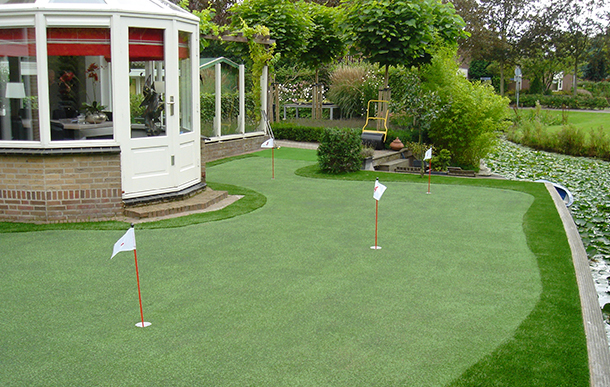 Practice golf in your garden with an artificial putting green from My View Golf. Use your golf green for putting practice or to have fun with family and friends. The artificial green looks great as a centre piece on your lawn but more importantly, it gives you the luxury and convenience of playing golf all year round in the comfort of your own garden.
The quality of the artificial turf makes you feel as if you are playing on natural grass at a professional golf course. The ideal putting green has short and dense manicured grass to allow for smooth and consistent ball roll. It can take a professional green keeper many hours of labour throughout the year to maintain the green in this ideal condition. With no effort you can now enjoy the same experience in your garden with a My View Golf green.
Modular Golf Greens
Imagine being able to play on a professional quality golf green anytime you like in your office, home or garden. Now you can with a modular golf green! The My View Golf modular green is a boxed item so it can easily be packed away when not in use or you can leave it outside in the garden as it is also waterproof. Modular putting greens can be ordered online and delivered to your door within 10 days. Don't delay and start enjoying your very own golf green this summer!
Golf Course Design and Construction
Your golf course can benefit from artificial turf by reducing maintenance costs and increasing playing surface quality. With almost no effort, your golf course will be of the highest quality for your patrons to enjoy all year round. In hot summer months, neglecting to irrigate of your golf course can cause dead grass and other problems. Even if you have a sprinkler system installed, the cost of watering your golf course can be expensive or even impossible if there is a water shortage. Seeding, cutting, aerating and feeding the grass can also be expensive. Even with all this cost, many golf courses need to close when ground frost, snow or flooding occurs in the winter.
Thanks to artificial grass, your patrons can enjoy a high quality playing surface all year round with low maintenance and no forced closures due to weather conditions. Artificial turf is an investment for your golf course and an improved playing experience for your patrons.
In addition to the fairway, artificial turf can also be installed for golf greens, practice greens and pathways.